Buttermilk-Peppered Chicken
Serves 5-7
2 cups buttermilk
1 1/2 teaspoons kosher salt, divided
4 teaspoons ground black pepper, divided
5 garlic cloves, crushed
4 lbs bone-in chicken legs and thighs (about 5 thighs and 5 drumsticks)
2 bay leaves, torn in half
3 tablespoons salted butter, melted
In a small bowl, combine the buttermilk, 1 teaspoon of salt and 3 teaspoons of pepper. Stir well. Place the chicken and garlic into a large sealable plastic bag. Pour the marinade over the chicken and seal the bag.
Place the chicken in the fridge and marinate for at least 8 hours or up to 24 hours. Be sure to turn the bag once or twice to ensure the chicken pieces are evenly coated with the marinade.
When ready to cook, line a rimmed sheet pan with foil and place a cooling rack on top of the sheet pan. One piece at a time, remove the chicken from the marinade, pat dry and place on the cooling rack. Evenly distribute the remaining 1/2 teaspoon of salt onto the chicken pieces. Heat the oven to 450 degrees. Allow the chicken to rest while the oven heats.
Place the sheet pan with the cooling rack and chicken into the oven. Roast for 35 minutes, turning the chicken pieces once after 20 minutes. After the 35 minutes, turn on the broiler and broil the chicken until the skin is crispy, about 2 to 4 minutes. When broiling, make sure that the chicken thighs are positioned skin side up. If they are not, flip the chicken thighs to skin-side to ensure a nice crispy skin. Remove the chicken from the oven.
In a large bowl, thoroughly combine the melted butter and the remaining 1 teaspoon pepper. Place the chicken into the bowl and toss in the melted butter mixture to thoroughly coat the chicken pieces. Place the chicken onto a serving platter and then top with the remaining butter mixture. Serve warm.
---
Recipe and images by recipe contributor, Rebecca White, of A Pleasant Little Kitchen.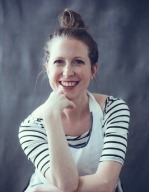 Visit her full blog or find out more about her here.
---