---
Recipe and images by recipe contributor, Rebecca White, of A Pleasant Little Kitchen.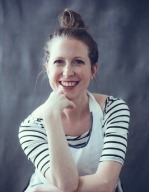 Visit her full blog or find out more about her here.
---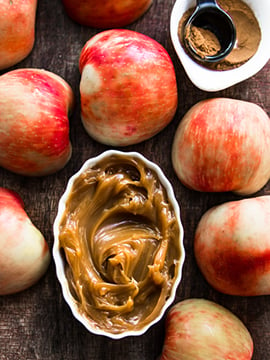 Baked Caramel Apples
Serves 5 to 12
5 to 6 apples
canola oil spray
1/3 cup brown sugar
1/4 tsp salt
1 tsp cinnamon
caramel sauce
Heat the oven to 375 degrees F. Half and core the apples. Spray a rimmed baking sheet with canola oil. In a small bowl, combine the brown sugar, salt and cinnamon.
Place the apples on the baking sheet, flesh side facing up. Evenly distribute the brown sugar mixture on top of the apples. Place the apples into the oven and bake for 30 minutes. This bake time will yield an "al dente" baked apple. If you prefer a softer apple, continue to bake for another 15 minutes, up to 1 hour total.
Remove the apples from the oven to let cool for 5 minutes. Drizzle caramel sauce on a serving platter or individual plates. Place the apples onto the platter and top with caramel sauce. Serve warm or at room temperature.