---
Recipe and images by recipe contributor, Rebecca White, of A Pleasant Little Kitchen.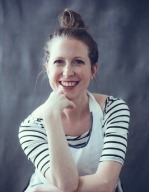 Visit her full blog or find out more about her here.
---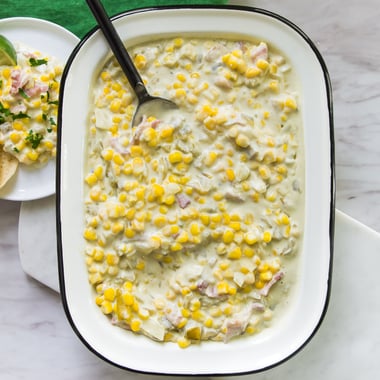 Skillet Hatch Creamy Corn with Bacon
Author note: To enjoy this recipe year round, use frozen corn (that has been thawed) and canned Hatch green chiles. It will not have the same vibrant flavors, but it will still be delicious. To use frozen corn for this recipe, place the corn into a large sieve and run hot water over the corn for 30 seconds. Place the sieve on top of a bowl and let the corn drain for about 10 to 15 minutes, stir occasionally.
4 to 5 cups of fresh corn on the cob, divided about (6 to 8 ears of corn)
1 1/2 cup Hatch green chiles, (roasted, peeled and seeded)
1/4 cup bacon, cut into 1/2-inch pieces
2 tablespoons unsalted butter
1/2 of a yellow onion, rough chopped
1 1/2 cup half and half
1 teaspoon kosher salt
8-ounce creamed cheese, cut into small cubes
cilantro, for topping
fresh lime wedges, for topping
Remove the corn from the cobs. Set aside. Chop the roasted Hatch chiles and set aside. Bring a small saucepan of water to a boil. Boil the bacon for 2 minutes. Remove the bacon with a slotted spoon and place into a large skillet with the butter, onions and green chiles.
Cook the bacon and vegetables over medium heat on the stovetop until the onions are softened, about 10 minutes. Add the corn, half and half and salt to the skillet. Simmer for 5 minutes. Stir occasionally.
After the 5 minutes of simmering, reduce the heat to medium-low and add the cream cheese. Stir to combine and let melt into the mixture, about 5 to 10 minutes. Stir occasionally. Once the cream cheese is melted and incorporated into the mixture, remove from the heat and let cool for 5 minutes.
Top with fresh cilantro and lime juice. Serve warm.