---
Recipe and images by recipe contributor, Rebecca White, of A Pleasant Little Kitchen.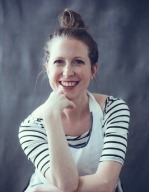 Visit her full blog or find out more about her here.
---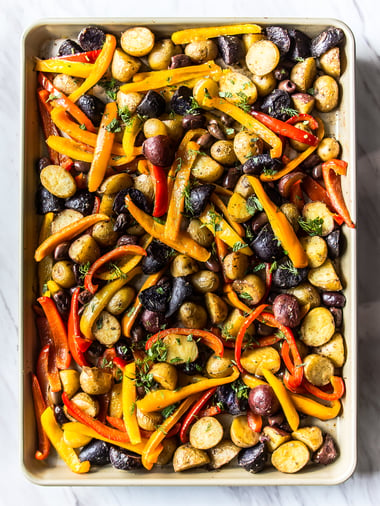 Mediterranean Roasted Potatoes and Peppers with Yogurt Sauce
Serves 4 to 6
1 1/2 lb small round potatoes, cut in half
3 tbsp extra virgin olive oil
1/2 tsp oregano
1 tsp smoked paprika
2 tsp kosher salt
4 red bell peppers, seeded and sliced
6-ounce bottle pitted kalamata olives, drained
lemon-yogurt sauce, for serving (see recipe below)
Heat the oven to 425 degrees. Place a pan of water on the cooktop and bring to a boil. Add a generous amount of salt into the water along with the potatoes. Boil for 10 minutes.
While the potatoes cook, place the oil, oregano, smoked paprika and salt into a medium-sized bowl. Whisk to combine. Once the potatoes are cooked and well strained from the water, add them to the oil mixture. Toss to coat.
Using a slotted spoon, transfer the potatoes to a half sheet-pan. Place into the oven and cook for 10 minutes.
Add the bell peppers and olives to the mixing bowl with the remaining oil mixture. Toss the peppers and lightly coat. After the potatoes have roasted for 10 minutes, remove the potatoes and pour the bowl of peppers and olives on top of the potatoes. Stir to combine and spread out into an even layer on the sheet pan and place into the oven. Cook for 25 to 30 minutes. Stir the potatoes and bell peppers halfway through the roasting time.
After a total of 35 to 40 minutes of roasting, remove from the oven and top with chopped fresh dill and mint. Serve with lemon yogurt sauce (see recipe below).
for the lemon yogurt sauce
1 1/2 cup Greek yogurt
2 tbsp extra-virgin olive oil
juice of 1/2 lemon
1/4 tsp kosher salt
Place the yogurt, oil, lemon and salt into a mixing bowl. Stir well to thoroughly combine. Place into the fridge to chill until service.