---
Recipe and images by recipe contributor, Rebecca White, of A Pleasant Little Kitchen.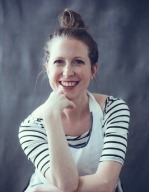 Visit her full blog or find out more about her here.
---
A toast! To my favorite season (Christmas!), my favorite community (that's YOU!) and my favorite grocery store (Market Street!)). Without all three, December would seem like any other month. Thankfully it's a month full of happy celebration, people to cook for and delicious shopping fun!
What better way to tribute you all than with a festive, seasonal cocktail that's easy to make, serves a crowd and is oh-so delicious! Poinsettia Punch is a large batch cocktail that only requires three main ingredients: sparkling wine, cranberry cocktail and orange liqueur.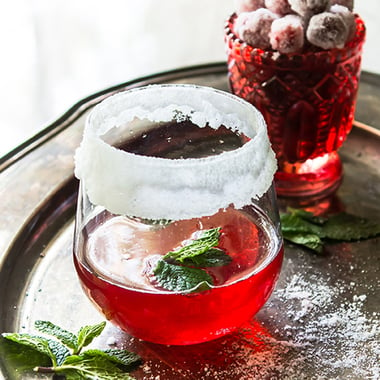 It's truly a pour and stir elixir that is perfect to prep 30 minutes before company arrives. It can be served from a pitcher, a punch bowl or even pre-poured individual glasses. How fancy you make the service is up to you. From plastic disposable cups to cute holiday glasses, the Market Street always has plenty of options available in the Dish Department, presentation is up to you!
The sparkling wine used is also up to you! Champagne, prosecco or sparkling wine—a dry white bubbly is the perfect foundation to this drink. If you're unsure on which bottle to grab, just ask Market Street's wine steward. They will direct you to the best bottle to fit your taste and budget!
Of course, if you're looking for a bit of fancy, you know I'm your girl. Below are a few ideas that you can choose to serve alongside your Poinsettia. Pick and choose or go with all three. Just remember, have fun with it! Cheers, my friends!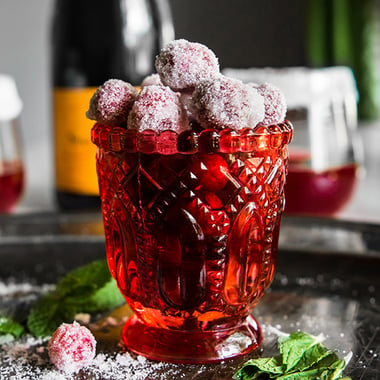 Candied Cranberries: These little red beauties are simple to make and bring a wow factor to the drink. Fresh cranberries marinate in a cinnamon simple syrup and then are coated in sugar. Let dry for a few hours and you will have this season's most delicious candy!
Fresh Mint: Probably the easiest garnish of them all, fresh mint, is a classic and beautiful final touch. Fresh mint will quickly and easily elevate your cocktail and will add that pop of green to the burst of bright red of the Poinsettia Punch. The perfect holiday color combination!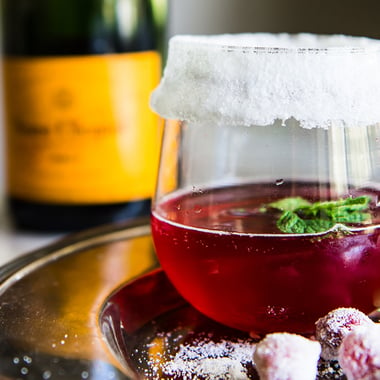 Sugar Rims: This will take a few extra minutes to prepare, however, if you're looking for an additional wow factor, sugar rims are the answer! Prepare two bowls, one filled with water and one filled with sugar. Take serving glasses and in a conveyor-line fashion, dunk the rim of the cup first in the water and then, into the sugar. Gingerly, flip the glass right-side-up and voila! You've created a sugar rim! Fill the glass with Poinsettia Punch and it will look like Santa's adorable fuzzy suit. How festive is that?!
Poinsettia Punch
Serves 6 to 8
1 1/2 cup cranberry juice
1/3 cup Grand Marnier
1 bottle champagne
fresh mint, to top
candied cranberries (see recipe below)
In a large pitcher add the cranberry juice, Grand Marnier and champagne. Stir to combine. Serve with fresh mint and candied cranberries.
for the candied cranberries
2 to 3 cups fresh cranberries
1 cup sugar
1 cup water
1 cinnamon stick
6 to 8 strips of orange peel (pith removed), about 1 orange
1/3 to 2/3 c sugar, for coating the cranberries
In a small saucepan add 1 cup sugar, water, cinnamon stick and orange peels. Cook over medium heat until the sugar has dissolved. Remove from the heat and add the cranberries. Stir to combine. Let cool for 15 minutes. Place into the fridge and store for at least 6 hours or up to 24 hours.
Strain the simple syrup from the cranberries. Set aside the simple syrup to use at a later date (think cocktails!). Lightly pat dry the cranberries.
On a parchment-lined rimmed baking sheet, spread the sugar forming an even layer. Top the sugar with the cranberries. Gently roll and toss the cranberries in the sugar to thoroughly coat. Top with additional sugar if the cranberries are not evenly coated. Allow the cranberries to dry, up to 4 hours.
Enjoy in cocktails, on desserts or by themselves. Store in an airtight container in the fridge, up to 3 days.