---
Recipe and images by recipe contributor, Rebecca White, of A Pleasant Little Kitchen.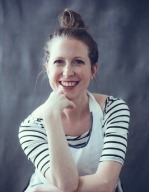 Visit her full blog or find out more about her here.
---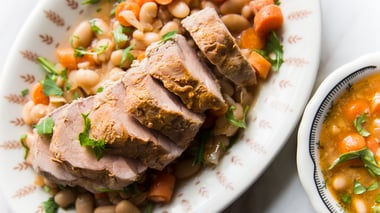 Slow Cooker Mustard Pork Tenderloin and Rosemary Cannellini Beans
serves 6-10
Author note: If you have limited time to cook, follow these instructions: After step three, place the pork tenderloin on top of the beans, skip step four and five and then continue with the instructions in step six. The pork can be coated with the mustard salt up to 24 hours before cook time.
2 1 1/4 lb pork tenderloins
1/4 cup Dijon mustard
2 1/4 tsp kosher salt, divided
3 15.8-ounce cans cannellini beans, drained
2 tsp apple cider vinegar
1/4 tsp ground black pepper
1/4 tsp red pepper flakes
4 tbsp unsalted butter, divided
1 cup diced carrots
1/2 onion, diced
1 bay leaf, torn in half
4 rosemary sprigs
2 tsp tomato paste
4 garlic cloves, rough chopped
2 3/4 cups low-sodium chicken stock
Evenly coat the pork tenderloins with the mustard and 3/4 teaspoon kosher salt. Set aside.
Turn the slow cooker to warm. Add the beans, vinegar, black pepper, red pepper flakes and 1 1/2 teaspoons of salt. Stir to combine
In a large skillet, melt 3 tablespoons of unsalted butter over medium heat. Add the carrots, onions, bay leaf and rosemary into the skillet. Cook until softened, about 10 to 12 minutes. In the last two minutes of cooking add the tomato paste and garlic. Smash the tomato paste into the skillet to incorporate it with the vegetables. Add 2 1/2 cups stock and deglaze the pan. Increase the heat to high and bring to quick boil and stir to combine. Pour the mixture into the slow cooker and stir well to combine with the beans.
Place 1 tablespoon of unsalted butter into the skillet and return to the cooktop. Melt the butter over medium-high heat. Once the pan is hot, place the tenderloins into the pan and sear one side for 2 minutes. Place the pork into the slow cooker on top of the beans.
Place the pan back onto the cooktop and deglaze the pan with 1/4 cup of chicken stock and bring to a boil. Pour the cooking liquid into the slow cooker and cover with the lid.
Cook on low for 2 hours or until the pork tenderloin reaches an internal temperature of 145 degrees F. Remove the pork and serve warm with the beans and a side of crusty bread.