This sparkling cocktail has flavor coming from every direction: sweet fruits, stimulating herbs and spices, and a refreshing splash of lemon. Make them for your New Year's Eve party to keep spirits high and the cold away.
What You Need:
1/2 cup water
1/2 cups sugar
1/4 cup raw sugar
3 pints fresh raspberries, rinsed
2 oranges, juiced
1 bottle Barefoot Bubbly Brut
1/4 cup freshly cracked black pepper
2-3 lemon wedges
6-8 fresh thyme sprigs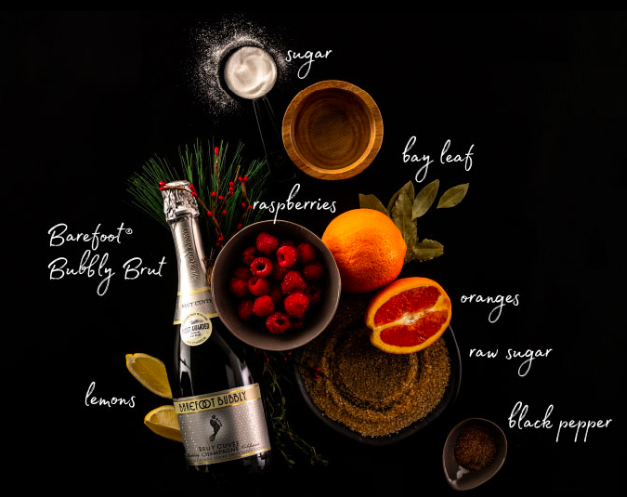 How To Do It:
Make simple syrup by heating water and sugar in a small sauce pan over medium-high heat.

Simmer for about 5 minutes, until the sugar is dissolved.

Remove from heat and let cool.

Blend the raspberries and orange juice in a blender or food processor until completely smooth.

Pour the mixture into a fine mesh strainer to remove the raspberry seeds.

Put the raspberry mixture in a large pitcher and mix with the simple syrup (add more or less simple syrup depending on how sweet you like your drinks),

Stir in your favorite Prosecco or champagne.

Mix the black pepper and raw sugar in a shallow dish.

Run a lemon slice around the rim of a glass, and then dip the glass into the pepper/sugar mixture.

Serve and enjoy!
RECIPE INSPIRED BY: thecandidappetite.com
Keep Spirits Bright
The best flavors of the season are waiting for you at United Supermarkets. Shop online for your staples or plan your trip to a United Supermarkets near you.