---
Recipe and images by recipe contributor, Rebecca White, of A Pleasant Little Kitchen.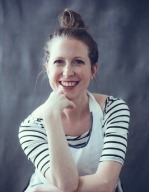 Visit her full blog or find out more about her here.
---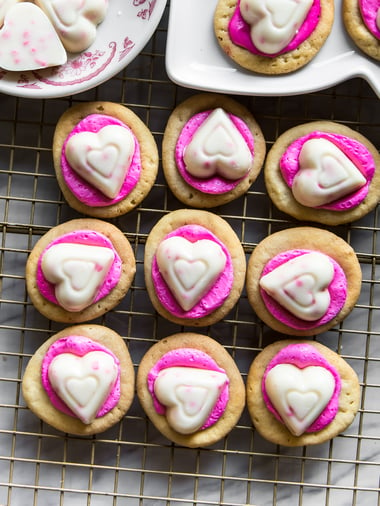 Valentine Thumb Print Sugar Cookies
makes 48 cookies
Author note: For the heat-shaped chocolate candies, I use Hershey's Cookies and Cream Hearts, but any heart-shaped chocolates or candies will do. This recipe makes 48 cookies because I used Pillsbury's pack of 24 pre-formed sugar cookie dough balls. To bake 48 cookies use whichever approach you prefer; whether it's at one time (with two racks and two sheet pans) or in batches (with one sheet pan). These dough balls will need to have 2 inches of space between each cookie. Lastly, have fun! Use your favorite Valentine color of frosting and whichever candies and chocolates call your name.
1 container of 24 pre-formed sugar cookie dough balls
squeezable pink frosting
heart shaped candy
Heat the oven to 350 degrees.
Cut the cookie dough balls in half and place, flat side down, onto a parchment lined baking sheet.
Place the cookies into the oven and cook until browned, about 12 minutes. Working quickly, remove the sheet pan from the oven and using the back of the spoon, gently make an indention in the center of each cookie. Let cool for 3 minutes and transfer to a wire cooling rack.
Let the cookies continue to cool for an additional 10 minutes. Fill each indention with frosting. Top the frosting with a heart-shaped candy. Once cooled completely, store in an airtight container.