Cherry season and summer are coming to an end, but don't worry! Freezing fresh cherries keeps the sweet taste of summer available all year long.
Frozen cherries are perfect as a refreshing snack on a hot summer day or can be added to smoothies and baked goods such as muffins and pies. Check out our cherry recipes here for more ideas.
Not sure how to properly preserve these summer gems? Check out our step-by-step instructions below!
Pick Your Cherries
Grab your favorite fresh cherries, whether its Sweet Red or Rainier, before the season is over! Unaware of the different varieties available? Check out the different varieties we carry here.
Pick out the cherries that are large in size and bold in color. Store in a refrigerator until you are ready to begin the freezing process.
Rinse & Pat Dry
Grab your ripe cherries from the fridge and prep them for freezing by rinsing them and patting them dry. Be sure to be gentle while drying.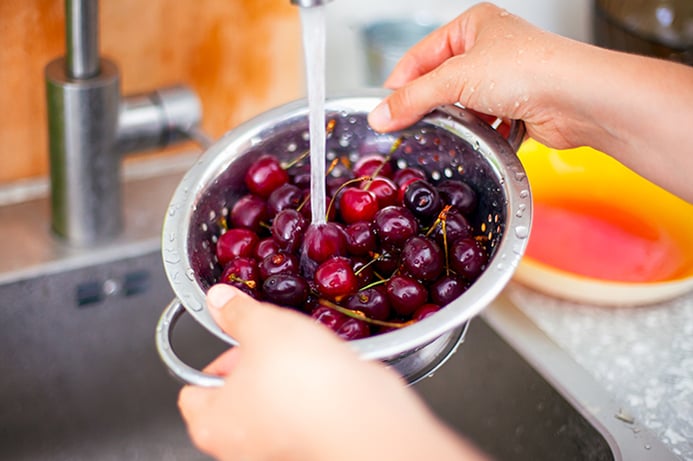 Pit the Cherries
For easy use later, it's important to pit the cherries. If you have a pitter at home, use it, but if not, use a skewer or other kitchen tool to dig into the center of each cherry and pop out the pit. Once your cherries are rinsed and pitted, they are ready for freezing!
Freezing Cherries
Freezing cherries consists of two major steps. First, place the pitted cherries onto a baking sheet with parchment paper, wax paper or foil underneath. Place the baking sheets of cherries into the freezer overnight.
The next day, grab your freezer-friendly plastic bags and transfer the cherries from the baking sheets into the plastic bags. After filling the bags, try to keep them as airtight as possible to avoid drying out your cherries.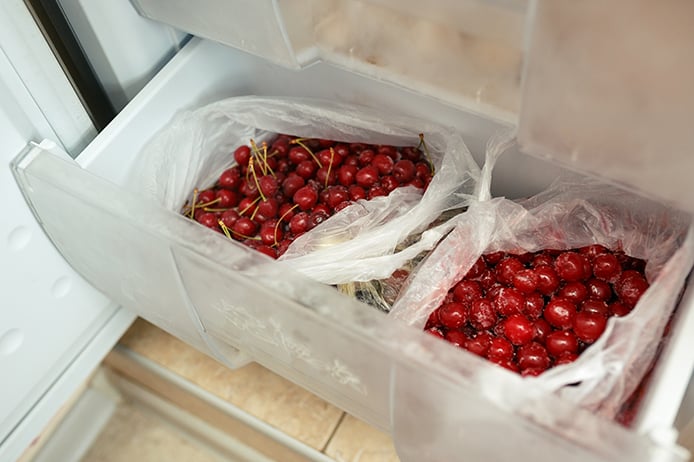 Enjoy!
Enjoy these frozen cherries year round in a variety of recipes or as a simple, frozen snack. Frozen cherries can be incorporated into a variety of recipes like these Cherry Yogurt Popsicles. Need inspiration? Click here for all of our cherry recipes or visit our Pinterest page for more cherry inspiration.
We all know happiness is a bowl of cherries so grab yours today to freeze them before they're gone. Shop online for your cherry favorites or plan your trip to a United Supermarkets near you.